I had been looking for a stout big ranch horse with some roping exposure. I went to Steve Temple at 4 Ropin Ranch and looked at a horse he had. I told Steve what I was looking for and the horse he had he immediately told me this horse will not handle what I required of him. So I passed on the horse. A few months later Steve had 2 more that he thought might work so I went to look at them. He showed me the gelding and told me everything about the horse, something you don't get from every horse seller (Honesty). I bought the horse and took him to the ranch and went to using him. The horse I bought was everything Steve said he was. I am very pleased with the experience and I will be going back to Steve Temple for my next purchase.
Brian M. from Arizona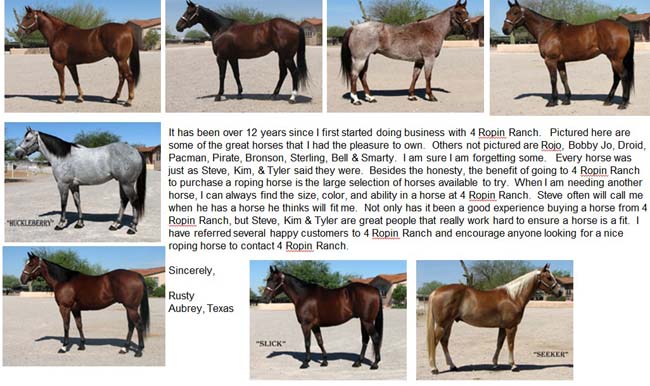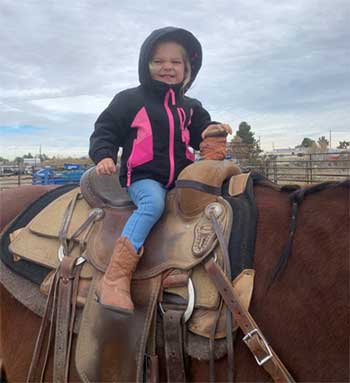 I refer everybody to your ranch for horses..... your stable is a class act and the horses you sell are absolutely amazing!!
Thanks again for the memories, I enjoy sharing these photos because I know how much you loved that horse.

Eric from California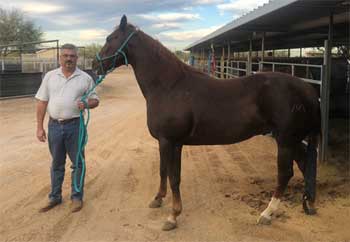 Thanks Steve for the hospitality and for selling us Howdy. He is in his stall relaxing. Thanks again.

Jerome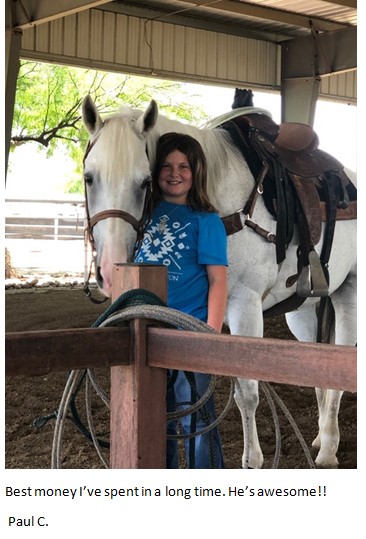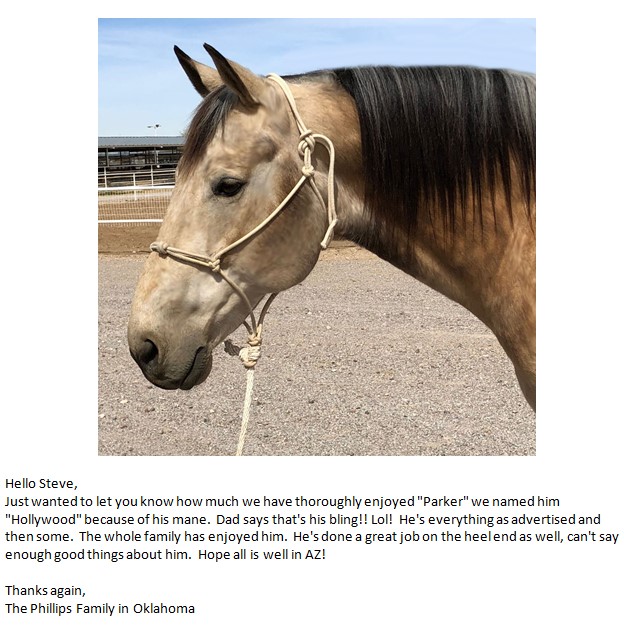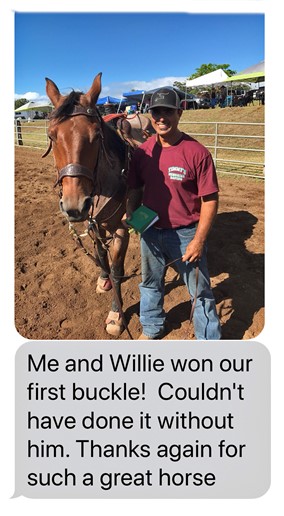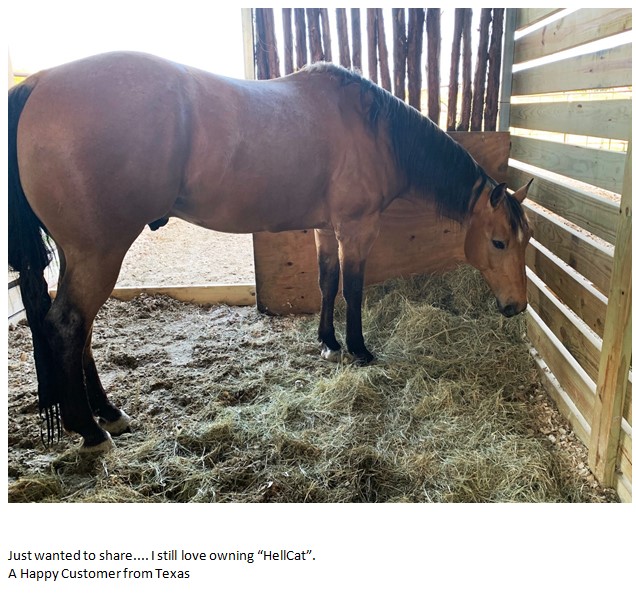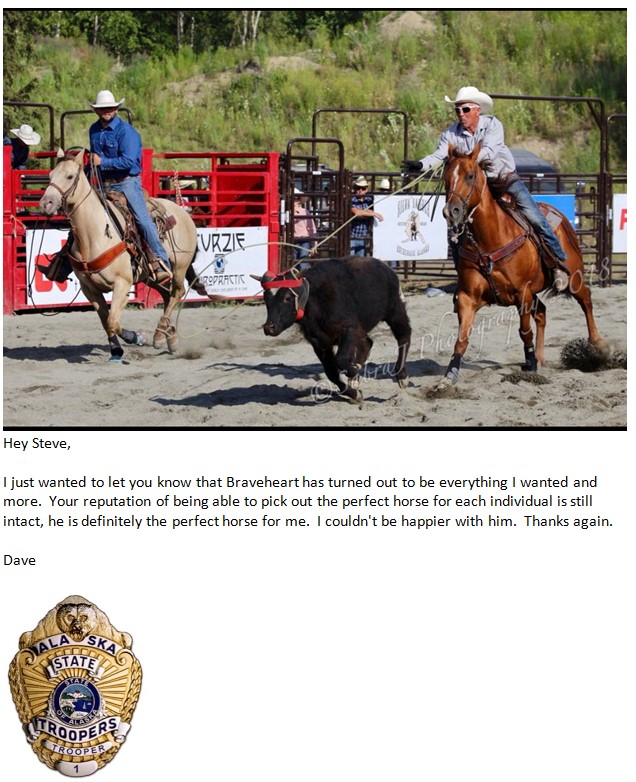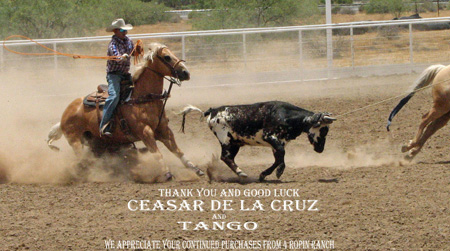 Good Luck Ceasar De La Cruz and Tango! We appreciate your continued purchases from 4 Ropin Ranch.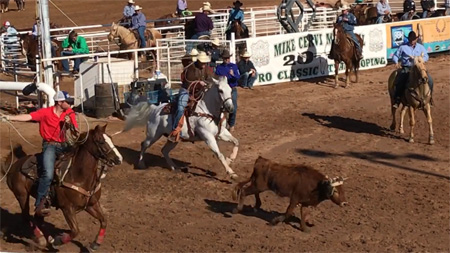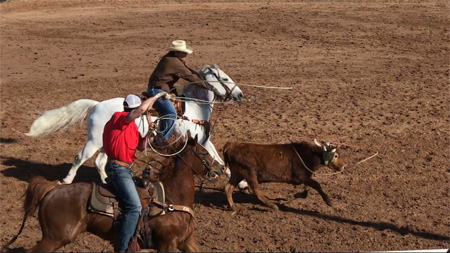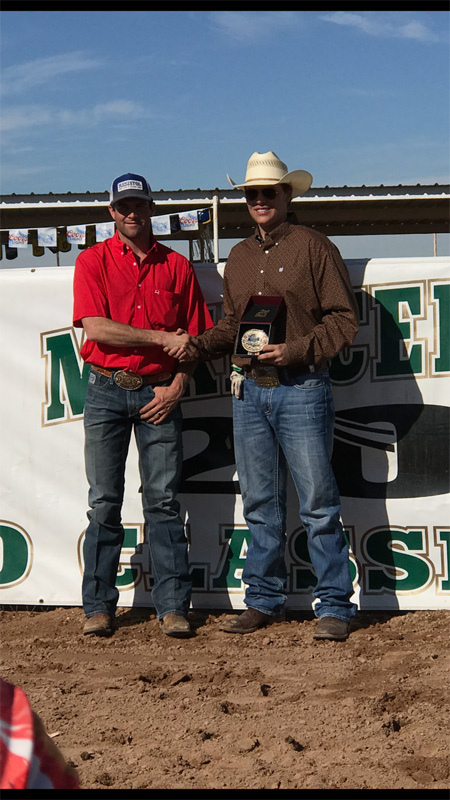 Congratulations Tyler Temple and Paul Eaves for winning the 2017 Mike Cervi Pro Am Classic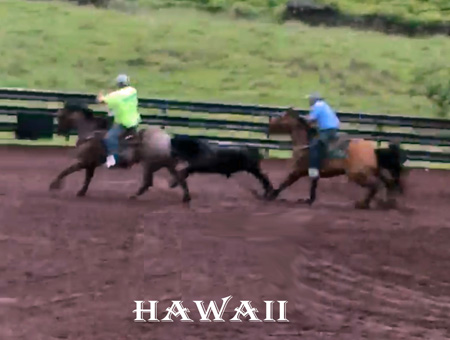 Hi steve, Kevin from hawaii. Just wanted to share with you a short video of willie doing the heading and big time doing the heeling. Two great horses, very satisfied with them. Thats my friend daniel heading with my horse willie, and im on Big Tyme. I would love to purchase another in the near future. Thanks and ALOHA!

Kevin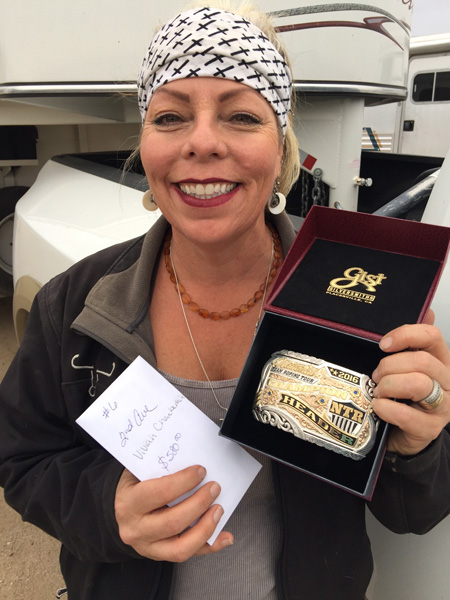 I love my little pony Rio! Thank you, Steve! We've finally crossed over from fear to confidence! Thank you thank you thank you!

Just an update . Rode him outside today and he did fine. He's going to be a great horse for me. Broke , beautiful and kind .
Thanks again
Jim
Ps named him Buddy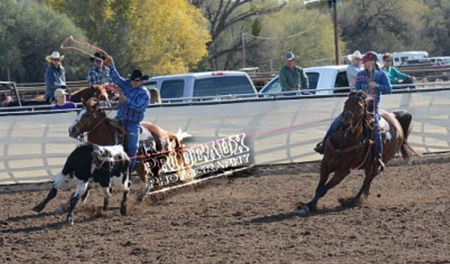 We purchased "Peppy Doc" in August and by New Year's Eve he already won a saddle and a buckle. He is our third purchase from 4RopinRanch. Once again - we told Steve what we were looking for and he said he had just the horse for us. He was right. "Peppy Doc" has made it to the short round in almost every roping. He is everything as advertised and more! Thanks again Steve and Kim for another great fit - when we need the next one we will be back!
Katy J. Texas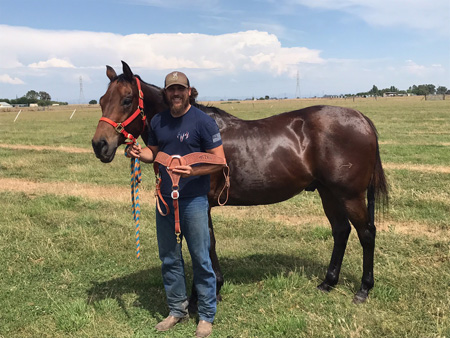 My 3rd jackpot Shrek and I roped in together. Won one today and got this breast collar. Thanks again for helping me find the best horse that fit me. Tim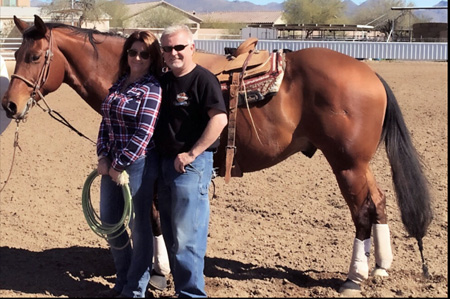 After months of searching for the right team roping horse, we finally came across 4 Ropin Ranch's website, where everything was so clearly written in detail about every horse and the pictures and videos were very realistic.
We called Steve, introduced ourselves and let him know what we were looking for. He took the time to go over a few options, and the pricing of each horse, which varied from low to high. He recommended a couple of horses and at that point advised us to take a look at the videos and let us know which horse we thought would fit our needs. In reviewing the videos recommended, by Steve, "Cowboy" (not website name) was by far the horse we had put our eyes on.
We scheduled an appointment to meet with Steve and Kim to test ride the various horses he had recommended. Upon our arrival at 4 Ropin Ranch, we immediately noticed how great the grounds were maintained, and how well all the horses were cared for. It was very apparent that Steve and Kim take pride in their horses as well as the ranch.
Steve had the four horses' ready, which we had discussed over the phone. What impressed us the most, is the mere fact that, he literally shut down the ranch to devote the entire day to spend with us. This in and of itself, speaks volumes of Steve and Kim's character. Steve was very quick and prompt in answering all of our questions for each horse we test rode. At no point did we ever feel pressured to buy a certain horse, but in fact felt like the decision we made was ours and not that of a horse salesman. He assured us that the decision we make would be the right one.
Steve and Kim,
As our journey with Cowboy begins, we can't begin to thank you for making the purchase of "Cowboy" happen – you truly went ABOVE AND BEYOND!
Thank you again for allowing us to feel like a part of the 4 Ropin Ranch family.
Rick & Sylvia – San Dimas, CA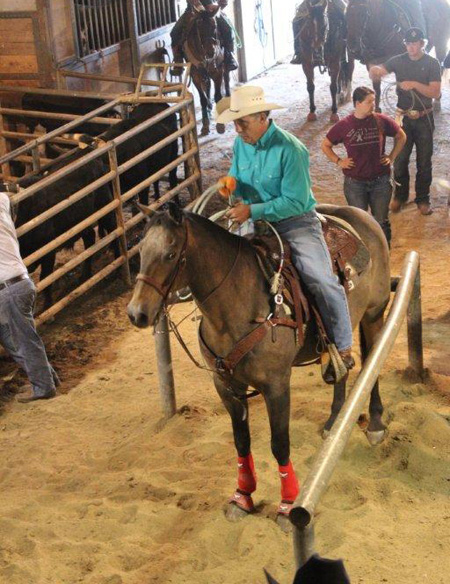 My first Jackpot on Commander, Great Fun, my horse was perfect.
Thank you,
Tom P.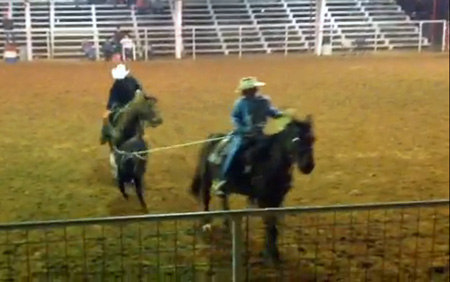 Steve:

Southern Junior Rodeo Assn had their finals this weekend in central AR. Nathan was 2nd Saturday night and 1st last night in breakaway in a very cold night of rodeo. (33 degrees and sleeting, cover arena but cold north wind blowing into arena.) He was third place in team roping, 5 point penalty by heeler with only one leg cost him first place but that is why they call it team roping. We have had snow and ice for the past 5 days. Next month marks 1 year he has roped live steers and if he does this coming year what he has the past 3 months, he should be in line for buckles and saddles.

Thank you for putting us on the best roping horse that resides in Arkansas.

William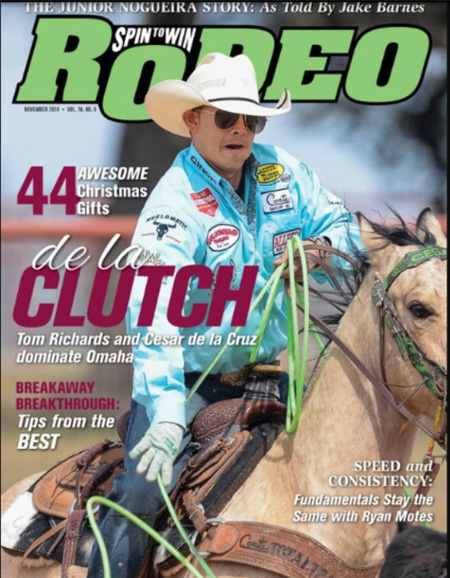 Cesar De La Cruz on the Cover of Spin To Win Rodeo magazine on his buckskin horse "Jagger" purchased from 4 Ropin Ranch.
Thank you Cesar!!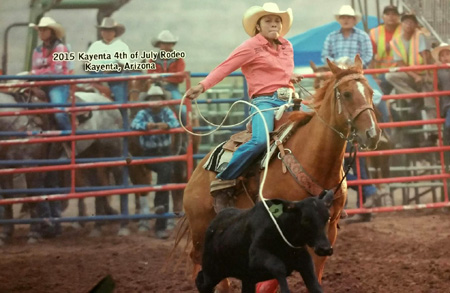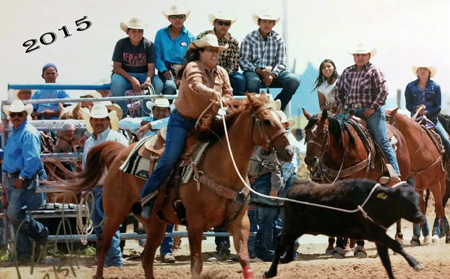 Good Evening Steve,
I just wanted to give you a brief update on Rewind. Rewind is already 1/3 of the way in paying himself off!
The past two weekends we collected close to $2,000 (including our 4th of July run). We place at just about every rodeo we (Sister and I) hit. He's gets compliments everywhere we go and we've been letting folks know where we got him. Thanks for pairing us up with such an awesome horse!!!
Vanessa and Elisha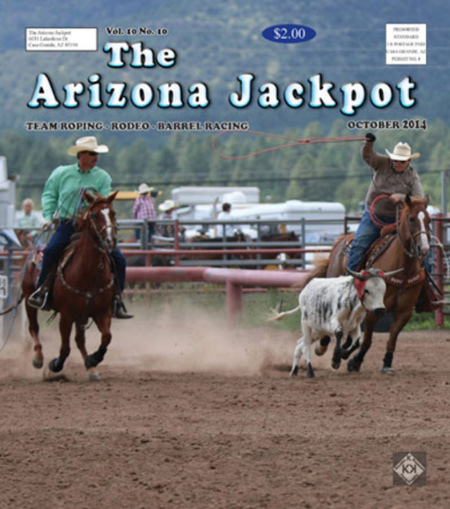 Tyler Temple and his great head horse "Smuggler" on the cover of the "Arizona Jackpot" magazine winning the Williams Rodeo.
Congratulations Son!

Dale Thank you on your purchase of Timmy. He made a long flight over to the Island but it paid off.
Congratulations to and your new head horse for winning your first buckle at the Hawaii USTRC Roping.

Steve,
Thank you for all your help with Tucker. An excellent horse. We have enjoyed having him around and riding him. We roped on him twice and both times he was more than just a great horse. Thanks again! I appreciate it! Many people have asked me about him after they have seen your brand. Sent them to your website for more information. Thank you once more!
Ron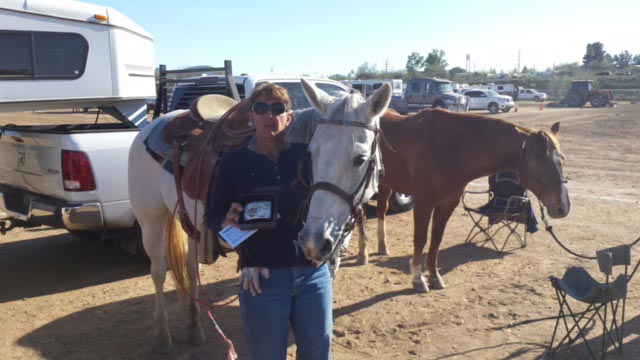 Good morning Steve. Stewart an I got er done in Wickenburg Sunday. We got a nice check and I won my first buckle. We were 5 seconds from a saddle. Thanks for all your help.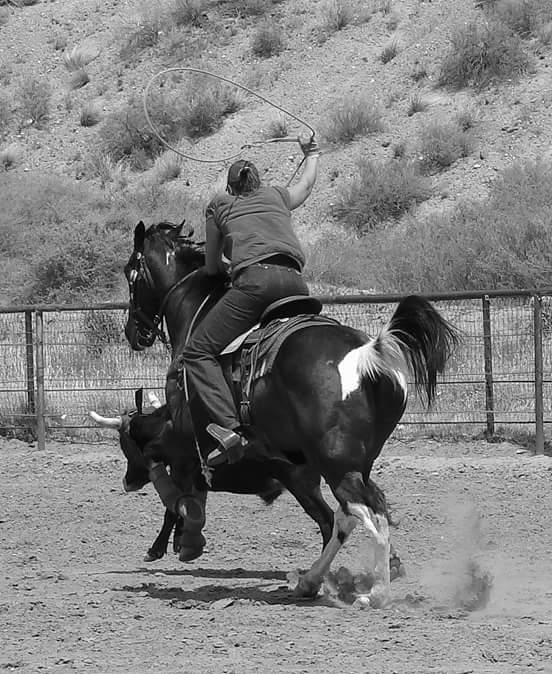 Hey Steve. Here is a pic of Cash.. who I now call Maximus.. (Max).. at a roping school last wknd. He is awesome.. he is so patient with me... and works hard at his job. Thanks! I love him!!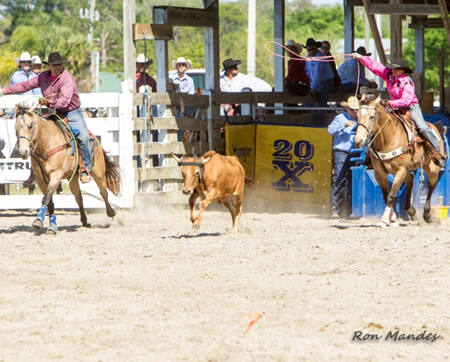 Its been awhile but wanted to let yall know how Wyatt is doing well we call him Doc Holiday now. Lol But he has been winning lots he is main PRCA Heel horse and Hazing horse. Him and my Big Buckskin Head horse make one deadly team in the roping . Here is a Pic from this years PRCA rodeo In Okeechobee Fl winning 3rd in the teamroping my boyfriend on the heel side on him with Me heading on my other buckskin.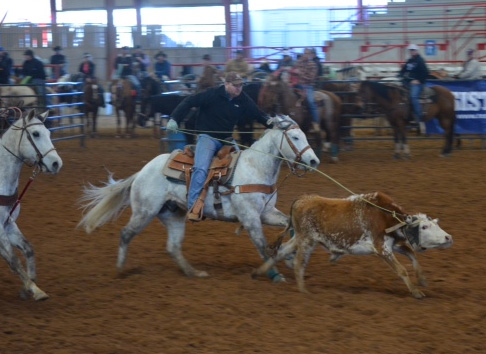 Won the number nine roping at Athens Texas at Fire It Up Roping this past Sunday. Was fourth and second high call back. Horse is working great! Gets lots of compliments everywhere we go. Thanks again! Hope everything is going well. Chase Hickman

Steve/Kim –
Goose was a star at the 40+ Finals last weekend in Stephenville – he made 2 short rounds and got 2nd in the All Girl. No barriers all day!!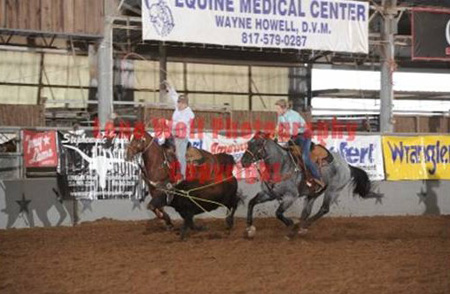 Thanks, Katy J.

I finally got to rope off him last night with my shoulder being hurt I had to wait. Just wanted to let you all know how much I liked him. Buying a horse I have never seen or rode is something I don't normally do but I liked him so much in the video and he worked just like I hoped. I just wanted to let you all know how we'll he is doing and to say thanks.
Todd B.
Maryland

Hey Steve, Kim and Tyler,
Hope you all had a great Christmas and New Years. I just wanted to send you and update on Fatso!

Fatso is everything I wanted and we are getting along great. A week after his arrival we attended a two day jackpot and ran a bunch of steers. He did great and I won a little money. He did excellent in the overnight pens and got along with all of the other horses. The picture I am sending you is from a Rodeo on Jan 4 in Salem VA. My daughter and I roped together. She had to chase him down a little but Fatso had me right there to take the shot. We were clean but ended up a few out of the money. Last Sunday we went over to a friends house to practice and I carried both a head and heel rope and had a lot of fun just jumping in which ever box was empty! Fatso is a very kind horse and friendly to both people and other horses. I know I am going to enjoy him for some time to come.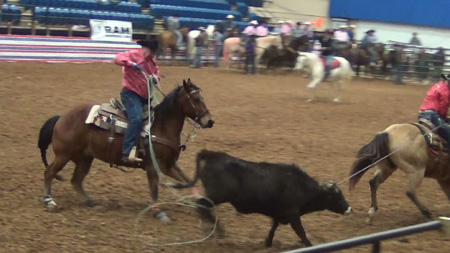 We have been very pleased with all three of our 4 Ropin Ranch purchases and I recommend to all my friends to check out 4 Ropin Ranch before they buy a horse. We wish the best to you and your family and look forward to future business.

Sincerely
Charlie B.
Virginia
A very satisfied customer!!

Merlin in his "PEN " He is working Great ! Have you guy's been called by Ray about looking for another Merlin ? Merlin has caused many people in our area to ask about him and I refer them to your internet site.
Thanks again.

Jack L.
California

Hi Steve and Kim, Just wanted to send a great big thank you for everything. Steve, thank you so much for setting up my saddle and fitting the bridle, AND hopping on Sniper and riding him around the facility for me. That was above and beyond and really appreciated. I would have stared at that girth/cinch for awhile! Kim, thank you for taking the time to ride with me and explain some of the finer nuances of western riding yesterday. Today, Sniper and I just clicked. I don't know if he remembered things from yesterday, but somehow we just got it.
I hacked him solo down the wash and then met up with a gal and did a short little loop on some nearby trails and he was absolutely perfect.
Many thanks,
Cindy and Casey

Happy New Year Steve and Kim!
I hope you all are doing well, and enjoying the warm weather that I am missing out on here in New Mexico. I wanted to wait until the end of the year so I could give you a complete rundown of the past 10 months that I have proudly owned Pirate.
A month after I purchased Pirate I went to my first World Series Team Roping Qualifier in Albuquerque, NM. Turned out that Pirate and I won the #12 and had the fastest average of the entire weekend! This season I also hit the amateur rodeo circuit here in New Mexico. Pirate and I finished 7th in the team roping, and ended up 4th in the all around. We won and placed at multiple NMRA's and he was even nominated for head horse of the year at the finals. We won the first round of the team roping at the NMRA finals. We won ourselves a nice check, jacket, breast collar, and Bob Berg buckle.
I forgot to mention that this season I also got my number bumped to a 6 header. Becoming a 6 and qualifying for the World Series Finals were my biggest goals for the 2012 year. Without Pirate I may have not reached my goals.
Since I got bumped we had to rope in the #13 at the WSTR Finals. Since I was on Pirate I was not worried at all. I was so proud of Pirate and couldn't have done it without him. We made it far, and I am hoping that we will get to be there again this New Year.
I attached some pictures of Pirate and me competing at the WSTR Finals. I hope you all enjoy them as much as I did. I am sure this is the stuff you love to hear back from your customers. You all were great to me and my dad and I appreciate every bit of you and the ranch. I also wanted to add that this year I bought my PRCA permit and Pirate and I will be competing at our first Pro Rodeo the last weekend in January. I am very excited to jump into this new arena of competition, and I couldn't be more thrilled to have Pirate there with me.
So, there is a recap of my season for the 10 months that I have owned Pirate. I can't wait to see what God has in store for us the many years down the road. Thank you Steve and Kim for Pirate, I am truly blessed to have him.
I am actually looking for another head horse since I am stepping into the Pro world. I am interested in Turbo. I don't think I can't buy another horse from you all!
Once again thank you for everything. He has been a major blessing and so have you all! Hope to see you soon, and Happy New Year
Robert M.
New Mexico

Mr Steve
I know I have told you this before, but competed In Texarkana last wkd came out 9 out of 268 teams the horse I got from you ZAN was incredible the Only reason we didn't win was pilot error broke heal barrier. There were at least 20 ropers that came up To me and told me how incredible and pretty he was also told them where I got him most of them wrote it down What a great feeling I almost let him ride in the truck on the way home. So once again thanks my friend he is a horse that can never be replaced But I will enjoy having him until the end.
Have a blessed day
To you and your family with kind regards
Bill and Melody
Louisiana

Clay Parsons winning the Grand Canyon Pro Rodeo Year End Calf Roping on his 4 Ropin Ranch horse "Bear".

Morning Steve!
I can't tell you how pleased we are with Parker! Best horse! The star of the town!!
I ran barrels with a time of 18.5!! Roped off him, people doubt him due to his size! We've shut a lot of people up!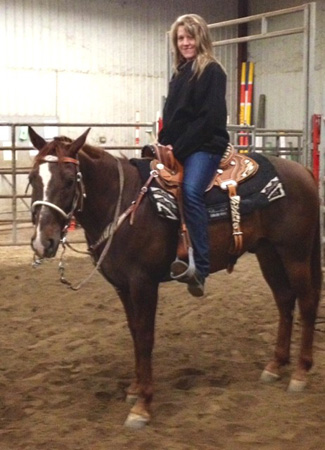 Kayla N.
Canada

Good Evening Steve,
So the day I bought Hombre I remember you saying "Make sure to send me a picture with your new truck." Well here is the new truck Hombre helped me win during the Triple Truck Explosion in Queen Creek. We got this win with a fast time of 5.32. Just this past weekend we also placed 3rd in the average at the National All Amateurs Sun Country Finals at Dunn's arena and took home a new saddle and cash. Hombre sure is a great horse. Thank you for pairing me with him. We sure make a great team!
Corderio Dick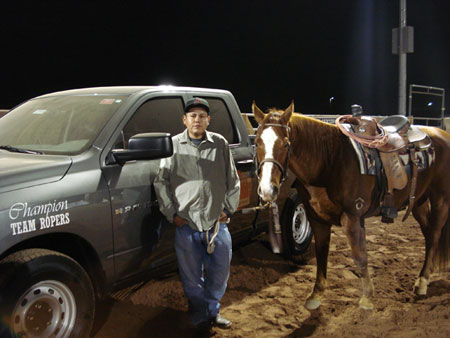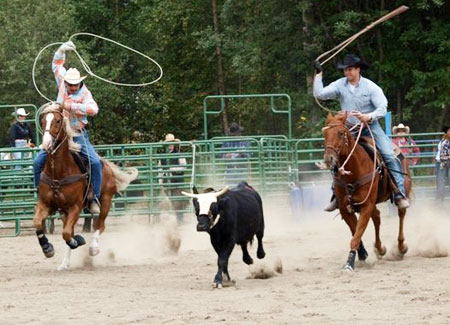 Hi Steve and Kim,
I was just looking at your website so I thought I would drop you a line. It has been 4 years now since I purchased Louie from you and all I can say is what a great 4 year it has been with Louie we just keep winning Rodeos and buckles. Up here in Alaska where the summers are short and the winters are long Louie was defiantly the right fit for me after being put up for the long winter all I have to do in the summer is get on Louie and rope. Hope you're all doing good Thanks again!!
Steve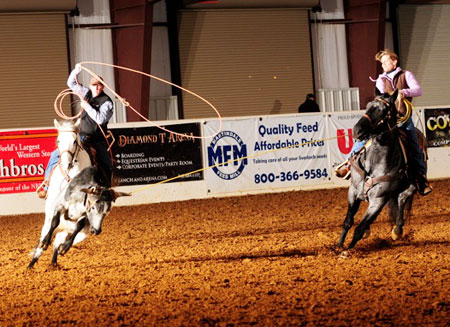 Buying a horse from 4 Ropin Ranch was the most pleasant horse purchasing experience I have had. It was nice to be able to try several gentle, solid rope horses on live cattle that I could compare at the same time. The horse I bought is everything I was looking for and has been a great addition to our barn.
Thanks Steve and Kim for the hospitality. We will be back when we need another one.
Katy Jameson

Hey Steve
Just wanted to tell you that Goose is his official name now. Since I got him I probably rope twice as much. Thanks for a great horse. Hope you and the family have a great holiday.
Regards
Ernie

Hi Steve
How is everything in AZ, I bought Flax from you last September, he is doing very well, I was just looking at your site and thought I would drop you a note.
When I got home I won more money in the month of September than I did all last summer. We still are covered with snow where I live and our barn roof collapsed from the snow so we haven't got to rope at all this winter. Everyone is very impressed with him, he is going to do me a lot good. Thanks Again…….. Tanner

Steve & Kim,
I'm so excited about getting Twitter! He's a great horse and will be lots of fun for years to come.
Thanks so much for taking so much time with Dave & me so we could make a good choice among such good horses. We love your indoor arena - we never broke a sweat the whole time, which was a big surprise, considering the weather outside.
I never traveled that far for a rope horse, but like Dave said on the way back, " it's worth the trip to go where the good horses are!!!"
Many thanks again, Teddy

Hi Steve and Kim,
Just wanted to let you know how much I enjoy Roddy! I went to one WSR in Hamilton, TX and they bumped my number up. He always works great and he is also the talk of west Texas. People sure would like to buy him but he is not for sale. Just wanted to let you know and when I get the money to buy a back up I will be heading your way. Hope everything is great!
Thanks,
Casey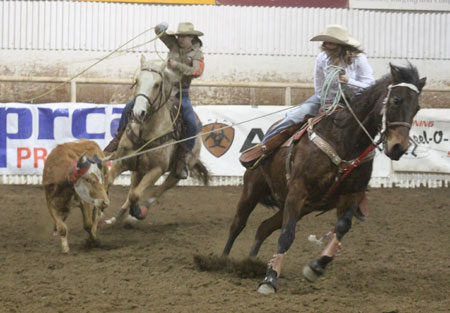 Hello Steve and Kim:
Hope all is going well in Arizona.
Here is a picture just taken this past weekend at a rodeo of Taryn and Andy. She is roping so good off him and we just love him to death. He is the coolest horse we have ever owned. Slow or fast steers he is amazing. Just rates them himself and gets her to her shot every time. AMAZING HORSE and so very safe for her to rope off. We thank you so very much and cannot believe he was not our first pick. We often think about that and know it truly was a blessing that you kept telling us we needed to buy him more than any horse.
Thank you again and hope you enjoy the picture.
Tracey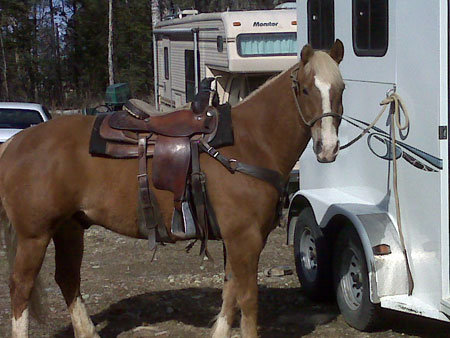 Hi Steve & Kim
Just sending you a photo of Louie he is doing great he still has some winter coat too come off yet but winters good up here in cold Alaska
Starting to get ready for our roping season we have done good won the year end buckle in healing the last two years. Hope to do it again this year! Thanks again for hooking me up with Louie.
Steve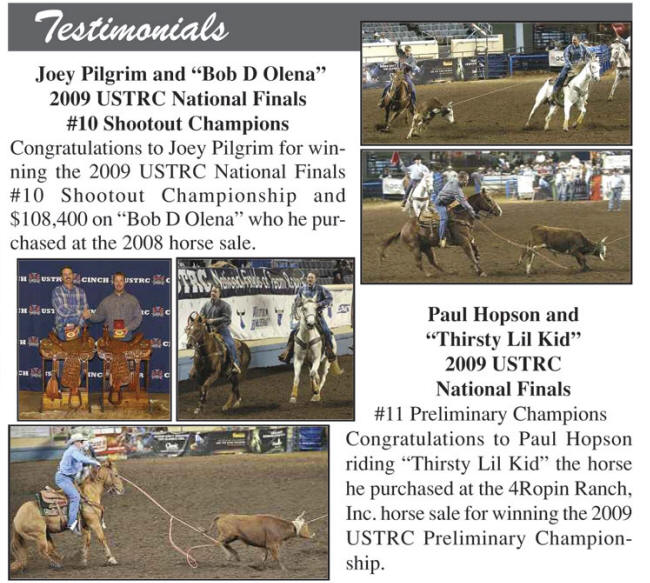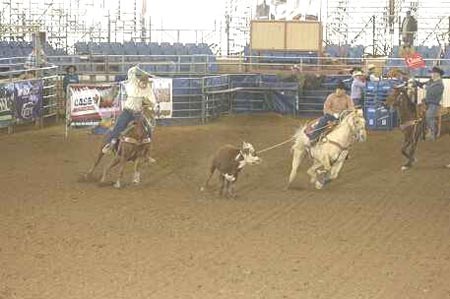 Congratulations Edgardo Esquer for winning both the #10 and the incentive at the 2009 Lasso Del Sol aboard his 4Ropin Ranch palomino head horse.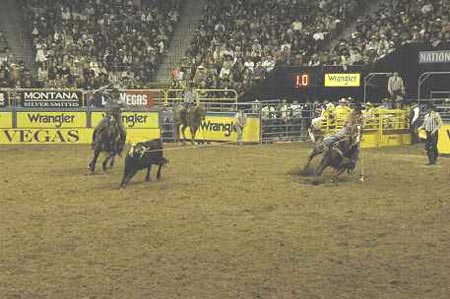 Jimmie Cooper heading at the Wrangler NFR on "Hank" his 4Ropin Ranch head horse.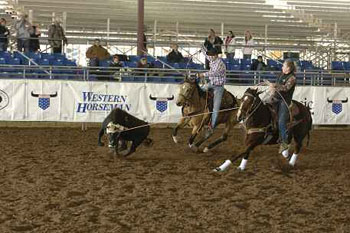 Shelly and Brent of California winning $10,000 on two 4Ropin Ranch horses
"Poco" and "Rolex"
(purchased at the 07 Sale).

Dave D.winning a big check at 2008 Scottsdale USTRC Roping
on "Twister" (purchased at the USTRC 06 Sale).
DEAR STEVE AND KIM- MY FAMILY AND I JUST WANTED TO SAY HOW PLEASED WE ARE WITH THE THREE ROPE HORSES THAT WE PURCHASED FROM 4 ROPIN RANCH AT HE PAST TWO YEARS. TWISTER-POCO-ROLEX- THE BOTH OF YOU TOOK THE EXTRA TIME TO ENSURE THAT THE HORSE FIT OUR ABILITY REGARDING ROPING AND RIDING. THE DAY AT 4ROPIN RANCH WITH YOU IN THE ROPING AREA SHOWING THE INS AND OUTS OF EACH HORSE A GREAT EXPERIENCE. NOT ONLY DID EACH HORSE PERFORM AT THE ROPING BUT WE MADE IT ALL THE WAY TO OKC. LAST YEAR. THANK YOU FOR YOUR TIME EFFORT---Dave and Shannon

FAMILY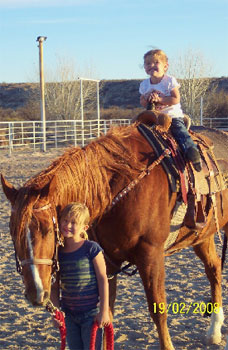 Steve, Just thought I'd send you a few pictures of Leo.
My kids ride him more than I do. Thanks, Jason F.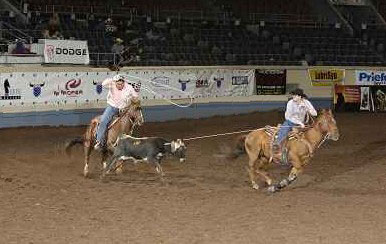 Alex S, of Colorado aboard "Oscar" making a winning run at the 07 USTRC Finals.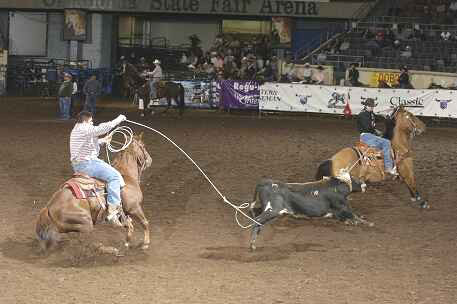 Phillip S. has won in excess of $50,000 on his good buckskin head horse "Yogie" who he purchased at 4Ropin Ranch's USTRC horse sale in 2006.
Phillip and Alex have both added two more 4Ropin Ranch head horses to their string of winners.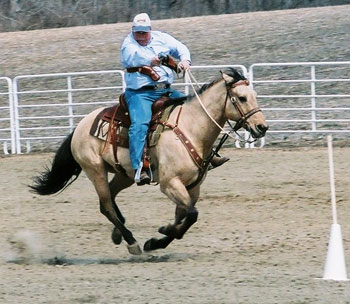 Dear Kim and Steve,
What can you say to someone that has helped you to form a bond with family members! That is what our 4-Ropin Ranch horses are to my wife Debby and I. .From our 1st phone call to the numerous ever since you, all have provided for us a way to buy horses the old fashioned way ,when a man's word was his bond and a handshake was all the paperwork you needed to buy a horse! The 2 of you are a true blessing from our Lord and Savior. Although our focus has moved from roping to Cowboy Mounted Shooting a good horse is still a good horse, The horses you have found for us can just about do it all! We cherish our business relationship but more importantly you have become dear friends. I know anyone buying a horse from you will be getting the same integrity and honesty we have been treated with.
Your Friends
Bill and Debby from Illinois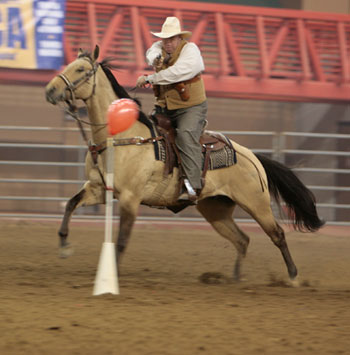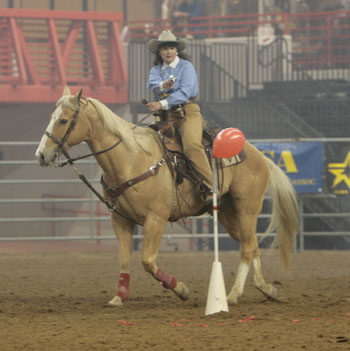 Steve and Kim,
Well, They did it again!!!!!
Alan and Preacher placed 2nd in the World Series of Team Roping in Las Vegas, 2007 where they won $75,000. Alan and Preacher have won in excess of $100,000. I cant tell you what this horse has done for Alan's confidence level. Alan had a 5 year dry spell and couldn't get anything done expect place once in a while. This horse has made Alan up his horsemanship skills to levels he never dreamed could be possible. Together, nothing can stop them. Alans main partners, Sean Dudoit and Toby Campbell tell him to keep that "grey money maker" in a padded stall and only rope on him in the biggies, which is exactly what we are doing. I can never thank you enough for what you have done for Us. Preacher is coming 14 this year so you best be looking for another cuz they say "you spend half your life looking for the perfect horse and the other half trying to replace him". I don't know if you can get that job done, but if anyone can, I know it's 4ropinranch. Keep up the good work. The way you match rider and horse, maybe you should give E-HARMONY a run for their money!!

One more thing Alan was offered $60,000 for that horse after the WSTR event. WE DECLINED!
Jackie and Alan Vohs
Las Vegas, Nevada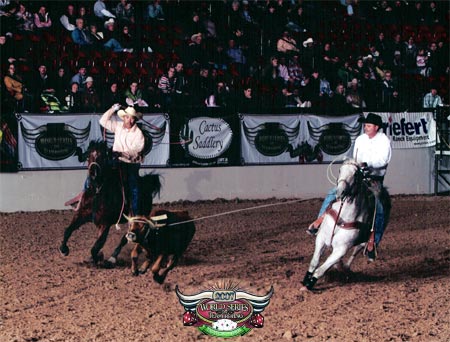 My name is TJ Wilder I am a youth pastor in Tulsa ok. I was just able to browse through your website and wow you all do I nice job! God bless you and may He continue to use you in a great way for His kingdom

Steve,
Every day I rope on PJ I like him more and more. He is just what I needed to restore my sagging confidence. Thank you, thank you, thank you!!!
Lisa
Arizona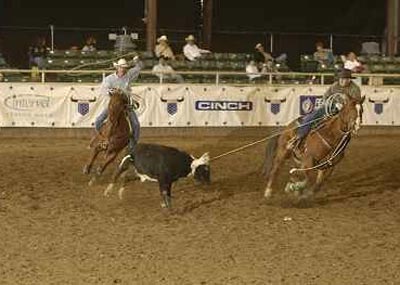 Greetings Steve, Kim and Tyler
Pepsi has settled in quite nicely and I look forward to competing on him at some upcoming rodeos and USTRC ropings. As you know this is my second 4 Ropin Ranch horse and as with both horses, they were far better than advertised. This new horse Pepsi was bought as a heel horse but he is also a superior head horse.
My only problem now is getting enough saddle time myself, every time I turn around my roping partners kids are on my 4 Ropin Ranch horses because they are so much fun to rope on and very safe and dependable.
Hopefully I will see you all down the road.
Jim Davis, proud owner of Bert and Pepsi.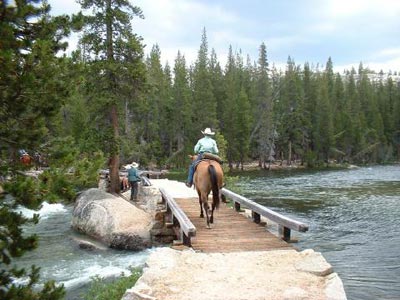 4Ropin Ranch
Just got back from Yosemite and Jessie was PERFECT. He crossed water, bridges, snow banks. He never hesitated at anything we asked him to do.
He was unbelievable. He got along great with my horse. We penned them together without a problem. He traveled in a trailer for 12 hours.
We can't sing enough of his praises. We have told everyone how Perfect Jessie is. Considering we had only gotten in maybe 5 trail rides before we left for Yosemite- this is quite a testimonial to this horse. Thank you and good job matching us up.
Lynn and Peggy R.
Prescott, Arizona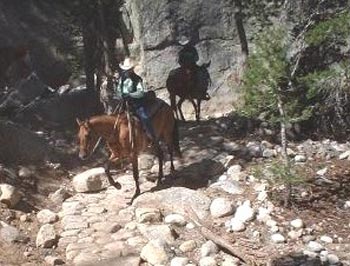 Coach is great. He's just as kind and gentle as you said he was.
Took him to the City of Industry USTRC roping. It was the first US roping I have tried. I entered the #ll. We were #17 of the 20 they brought back for the 4th steer. I turned him about mid arena. I was really pleased with the way Coach worked. He put me there every time and gave a great handle.
Again , thanks for all your help, and I will highly recommend you to anyone looking for a great rope horse.
Ron D.
California

Steve and Kim,
I have waited to send this note to you because I felt I needed to go through a roping season with the horse to truly evaluate the horse and the fit. There is no doubt, this horse and I are a perfect fit. There is nothing, absolutely nothing I could want or ask for that is not in the horse. He is incredibly well trained, soft in the bridle, trusting, confident with himself, sound, and a bang up heel horse.
Marana, Arizona is a long way from North Sutton, New Hampshire in many ways. I appreciated the greeting I received on arriving at your ranch along with the time you spent with me. First evaluating where I am (heel-o-matic, slow steers, etc) then getting me on the right horse and giving me a "clinic".
I will definitely purchase another horse from you and Kim. No doubt. The whole process was first rate.
Regards,
Ed
North Sutton, New Hampshire

Steve and Kim
Hello! Just wanted to send you a note telling you how much I appreciate everything you did for me on matching me up with Drifter my new buckskin heeling horse. Since I bought him from you I have been to the pay window a lot of times. Drifter draws a lot of attention at all the roping, he is one of the prettiest buckskins going. I have had more ropers come and ask me if he is for sale. I just grin and say not for any money. Thanks for everything you did for me and I will be back for more horses.
Thanks
Gary L.

Its been a year now since I purchased "Popeye" from you. He has been a pleasure to own and ride. He was everything you represented and more. In a way, I feel guilty for getting such a great deal on him! He has improved my roping considerably. I have had several inquiries on him to which my reply is always "Not for sale!" He will die on my place if I don't go first. I have won numerous times on him and we are looking forward to many more trips to the pay window. Thank you both for your honesty and sincerity. You guys are my sole source for "Quality" roping horses.
Your Friend,
Mike P. of Texas

I just wanted to say hello to you guys. We are coming up on celebrating Roany's birthday April 25th & almost to our 1 year anniversary of purchasing him from you guys and I know that you guys would appreciate to know that this year has been the most amazing year ever! He is my pride & joy and I can't tell you how many times I have told myself that I am so glad I listened to you guys & chose him! He is the best fit for our family & I can't even imagine life without him :)
I'm roping better than I ever have & ranch life has become a way of life for my whole family now. Thank you 4 Ropin Ranch for everything!!
Kym B. from California

I have to tell you that I love this horse. He is truly amazing! He has impressed everyone up here. One of the best things is that he is a very easy horse to have around. He loves his momma, loves his job, and is a very social little guy.
One guy asked me if it was worth it. My response was quite simple. Absolutely! I would do it again in a heartbeat. I told him that in a couple of years I will be looking for a horse that does both ends since I enjoy heading as well and there is only one place that I will go and that is back to your place.
Pam
River Falls, WI.

Hi Steve and Kim

Thomas made the trip fine. We gave him a week to settle in and he adapted to Virginia very easily. Candice began riding him after school for a couple of weeks and then we took him to his first jackpot last weekend. We all took turns roping on him and Candice won two holes that day. Everyone was real impressed with him, of course they also said "Man he is big". We are off this weekend to a high school rodeo. We have been very pleased with our experience with 4 Ropin Ranch and recommend you all to any one we see looking for a horse. Thanks for all your hospitality and service.
Charlie B. of Virginia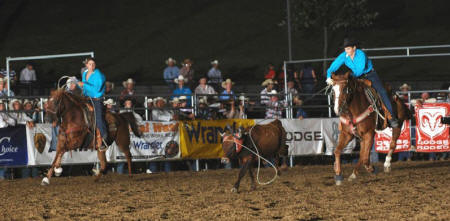 Hi Kim & Steve,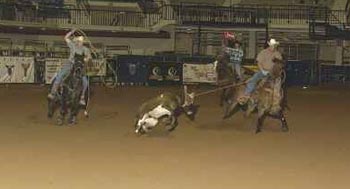 Smuggler is doing great!!! I can not go anywhere without someone wanting to buy him or tell me what a fine horse he is. After the first US roping I took him to they raised my number. I am sure it was for the way I was mounted!! We both are doing great and winning money.
Thanks!
Dane


We owe a great big thank you to Steve and Kim Temple! We bought all three of our horses from the 4 Ropin Ranch. Our experience was so good, we will never purchase another horse from anyone else. Steve and Kim are extremely dedicated to the outstanding service they provide. Their facilities are well kept and all of their animals are very well cared for. At 4 Ropin Ranch their number one concern is making sure they match each horse to the rider and vice versa. If at any time they feel a match is not appropriate they will not sell the horse. They spent a great deal of time with us on ground work along with riding and roping. We highly recommend Steve and Kim Temple at the 4 Ropin Ranch! If you're fortunate enough to have one of their horses, your possibilities are endless!!
Rick, Sue, Stacy, and Mason
Colorado